Signature Spinal Care is a warm, welcoming environment from the moment you walk through our doors. Our Chiropractic assistants will greet you promptly and ensure you feel at ease with your decision in choosing us for your health goals.
---
First Visit
We ask that you please complete your new patient intake form prior to your scheduled appointment to speed up the time in our waiting room.
If you have any questions or are unsuccessful in completing the form, please arrive 15 minutes prior to your appointment time to complete in office. To ensure you receive the best care possible, we perform a comprehensive initial examination that consists of the following:
Computerized Posture Screen Analysis
Accurately measure angles and linear distances of posture displacements and documentation for clinical assessments!
---
Thermography and Surface Electromyography (sEMG)
Provides the Doctor with information regarding the inflammation in tissues surrounding the spine (Thermography) along with highlighting the regions of the spine that contain any muscular imbalances (sEMG).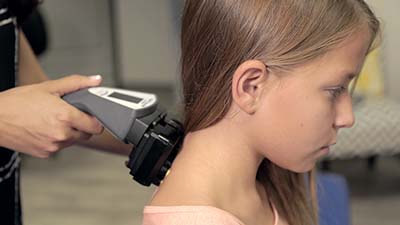 ---
Footlevelers Scan
Highlights imbalances and asymmetries between the patient's feet
---
Following your thorough examination, we proceed with providing you the best treatment possible. If further investigation is required, Dr. Langley may recommend x-rays which are completed at either an Insight or MIC location. Because we provide treatment on the first visit, we do advise our patients to expect to be in the clinic for a full hour.
---
Second Visit:
Your second visit with us will take approximately 30 minutes where you will sit down with Dr. Langley and go over your test results in detail. Dr. Langley will discuss your unique care plan, the costs involved and answer any questions or concerns you have, centered around reaching your health goals.
---
Insurance Accepted
We ask that you please bring in your insurance information so we can direct bill your visits for you! We accept all the most common insurance companies and major credit cards to cover any portion of your costs.
Sunday
Closed
---
Monday
9:30am - 1:00pm
3:00pm - 6:30pm
---
Tuesday
9:30am - 1:00pm
3:00pm - 6:30pm
---
Wednesday
9:30am - 1:00pm
3:00pm - 6:30pm
---
Thursday
9:30am - 1:00pm
3:00pm - 6:30pm
---
Friday
Closed
---
Saturday
9:00am - 3:00pm