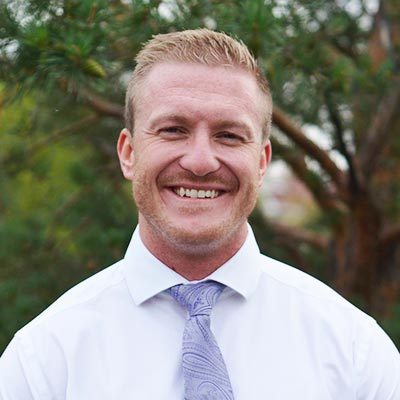 Chiropractor
Boston Langley, D.C.
Dr. Boston Langley was born and raised in Edmonton, playing both hockey and baseball during his youth. Seizing an opportunity to play baseball in the United States, Dr. Langley took flight to Kansas, playing in the Jayhawk Baseball Conference. This opportunity led Dr. Langley to receive a scholarship to Rollins College in Winter Park, Florida. 
Throughout his career however, Dr. Langley was plagued with injuries which were only managed and maintained through the help of Chiropractic. Upon graduating with a Bachelor of Science degree, Dr. Langley trained high level athletes at a sports performance clinic in Orlando, Florida. It was there he observed consistent dysfunctional movement that only seemed to be corrected when his clients saw a Chiropractor. This pushed Dr. Langley to pursue his Doctor of Chiropractic degree at Palmer College of Chiropractic in Port Orange, Florida.
It is through personal and professional experience that Dr. Langley derives his passion for not only correcting but maintaining proper spinal alignment. This helps to maintain proper neurological function to the muscles and organs of the human body, decreasing the overall stress on the patient's body and nervous system. Chiropractors are spinal specialists, capable of assessing and removing interference from the nervous system, promoting optimal health and wellness for the patient. If you feel that muscular dysfunction due to nerve interference is impacting your day to day quality of life or athletic pursuits, Chiropractic care is the change that your body needs.
Office Manager
Serena Luxford
I'm Serena, the Office Manager at Signature Spinal Care. I have been working in the Chiropractic field for over 13 years and it is a true passion of mine. Helping our patients and their families achieve the health and fitness goals they've dreamed of, is something I strive for.
I studied Business Administration in college, specializing in the medical field. Since then, I have attended numerous courses over the years to further my education in the Chiropractic and wellness field.
I have a thriving passion for music and enjoy spending much of my free time outdoors. I have been married to my wonderful husband for 19 years and love to spend time in our garden, camping, fishing, and walking our Australian Shepherd, Loki. Being grateful for the opportunity to connect with people and continue learning along the way is an understatement. Thank you for taking the time to read my bio, looking forward to connecting with you!
Chiropractic Assistant
Crystal Yewchin
Hello! I'm Crystal, a Chiropractic Assistant at Signature Spinal Care. I have been working in the Chiropractic field for a handful of years now and really enjoy it. I have taken Business Administration and multiple medical courses to keep me sharp and relevant in the field. Even though I have lived in Alberta since the '90's, I still consider myself to be from BC.
In my downtime I enjoy crafting, resin is my newest endeavor, but I still use my Cricut often. I love movies, nature, animals, and naps. I have been married to my wonderful husband for 12 years and am the proud aunt to 1 little boy right now, with more to come. Any downtime I have, I use it to see my nephew, friends, and my family.
Monday
9:30am - 1:00pm
3:00pm - 6:30pm
---
Tuesday
9:30am - 1:00pm
3:00pm - 6:30pm
---
Wednesday
9:30am - 1:00pm
3:00pm - 6:30pm
---
Thursday
9:30am - 1:00pm
3:00pm - 6:30pm
---
Friday
9:00am - 1:00pm
---
Saturday
9:00am - 1:00pm